Oracle
Oracle Marketing cloud
  Oracle marketing cloud is a data-driven marketing technology platform that promotes customer experience optimization and revenue growth. Provide automation marketing, precision marketing and personalized marketing solutions for enterprises and marketers.By creating zero-distance experience with customers and combining cross-channel, content, social media and data management, a complete transformation process from potential customers to business orders can be formed so that marketers can realize the perfect transformation from CMO to CGO.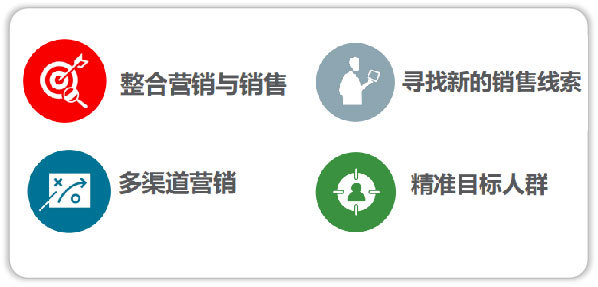 Oracle marketing cloud main products
  Eloqua marketing automation platform
  Main functions and values:
  1. Abundant clue recognition/clue information
  • add dimension of latent guest view
  • add dimension of latent guest view
  • enhance the realization value of customer data
  2. Cue score
  • sales resources are focused on quality lead tracking
  • ranking and management of cue priority
  • no more leads are lost
  3. Cultivation of clues
  • continuous cultivation of clues
  • more accurate communication channels to cover more target groups
  • personalized information push • multi-channel marketing activities to optimize the investment effect
  • cue recognition/cue information rich
  Ii. SRM social relationship management
  Main functions:
  1. Supervision of public opinion
  • support over 40 million websites worldwide
  • support social networks, blogs, video websites, BBS, news
  • comments and other types of sites
  • capture the full content of a social site, not just a summary of the content
  • meet the demands of various social media applications of enterprises
  2. Social interaction
  • view the activities of all social channels in a complete interface, and reply messages to each participant on the social media platform you have.
  • monitor important topics such as customer service issues, marketing activities, events, brands and competitors.
  3. Social analysis
  • analyze and guide your marketing strategy by looking at various indicators of your product
  • manage social analytics with customizable dashboards and more than 100 built-in metrics
  • use post and page-level metrics to identify trends and focus on content performance
  BlueKai data management platform
  1. B2B data market, accurate positioning of enterprise target customer groups
  2. Oracle data mart market Brand data: automobile, tourism, education, finance, retail, medical, professional services, consumer goods, real estate...
  Demographic attributes (1B): gender, age, family income, children
  Interests (1B): automobile, art and entertainment, hobbies, sports activities, politics, etc.
  Internet TV (250M): audience data of TV platform 3. Core values
  • manage first-party user data and external third-party potential user information of the enterprise through BlueKai
  • convert anonymous potential users into real-name potential customers
  • deliver brand advertisements to target groups through digital media
  • improve customer labels through third-party data
  • increase the conversion rate of e-commerce channels through redirection technology across the screen, user identification to identify the customer's complete transaction
0